How to Hide or Unhide a File or Folder in Windows 7?
For security reasons it is always recommended that you hide the file or folder that contains some sensitive data. Hiding a file or folder on your computer will add an extra layer of security as it doesn't allow anyone to view the contents of that object. Hidden files or folders can still be viewed however any unauthorized person will need to give some extra clicks to the computer in order to fetch them. You can hide files or folders on a Windows 7 computer by following the steps given below:
Right click on the file or folder which you want to hide and click on Properties.
On the Properties box under Attributes section check Hidden checkbox to hide the folder of file and click on Ok button.
On Confirm Attribute Changes box select appropriate radio button as per the needs (recommended is Apply changes to this folder subfolders and files option) and click on Ok button to confirm your configuration. Note: This box will only be displayed when you are setting attributes of a folder. In case you are following the process to hide a file Confirm Attribute Changes box will not be displayed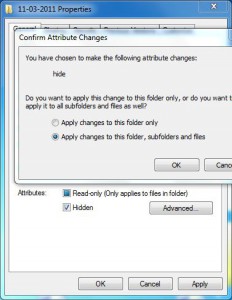 More Info:
In order to unhide any file or folder first you need to configure your machine to show hidden files and folders. Once done you can follow above steps to reverse the process.
Alternatively you can use command window to set attributes for any file or folder using commands.