How to install any version of Linux from Windows
The most known solution to install a distribution of Linux is by downloading the .iso image from the developers website burn it on a CD/DVD booting from it and installing. But now you can install your favorite distribution of Linux directly from Windows and you can install it even on your hard-drive without repartitioning it.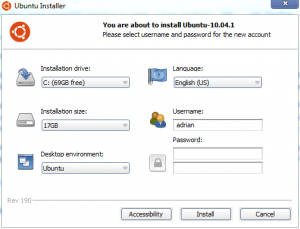 If you want to install Ubuntu you can try Wubi. Wubi is a simple installer for Ubuntu. With Wubi you can install or uninstall Ubuntu as any other Windows application.  Just download the latest version of Wubi and run it. Select the partition where you want to install Ubuntuthe language the space for installation the username the password and the version of Ubuntu (Ubuntu Ubuntu Netbook Kubuntu Kubuntu Netbook Xubuntu Mythbuntu). Wubi works on any version of Windows and you need at least 384 MB memory and 5GB space on your HDD.
If you want to try another distribution of Linux you should download UNetbootin. UNetbootin can create a bootable Live USB drive or it can make a "frugal install" on your local hard disk if you don't have a USB drive. UNetbootin automatically downloads the distribution you want or it uses the iso image you have already downloaded.