One of the best way to secure your data is to encrypt it. You can encrypt a file a folder a partition and even your entire HDD. If you want to be completely secured you should encrypt the entire disk or at least a partition. One of the best free encryption software is TrueCrypt. TrueCrypt works not only for Windows (XP Vista 7) but also there are versions for Mac OSX and Linux. TrueCrypt can only encrypt the following OS: Windows 7 (32bit and x64) Windows Vista SP1 or later (32bit and x64) Windows XP (32bit and x64) Windows Server 2008 (32bit and x64) and Windows Server 2003 (32bit and x64).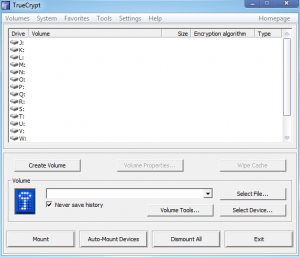 With TrueCrypt you can encrypt an entire partition or storage device or encrypt a partition where your operating system is installed. The procedure is automatic transparent and is done in real-time. Because TrueCrypt supports parallelization and pipelining the data will be read and written very fast. TrueCrypt is very secure because it stores any decrypted data only in RAm and not on a disk. Even when the volume is mounted data stored in the volume is still encrypted.
Let me show you how you can encrypt your partition with TrueCrypt:
1. Download TrueCrypt and install it.
2. Launch TrueCrypt and click on Create Volume.
3. Now you can choose to create an encrypted file container to encrypt a non system partition/drive or to encrypt the system partition or entire system drive. Let's choose to create an encrypted file container.
4. In this step you can choose to create a standard TrueCrypt volume or a hidden one. Choose what you think is the best for you.
5. Choose where to put the encrypted volume and check "Never save history".
6. Click save and that's it.