How to Resize any Partition Without any Special Program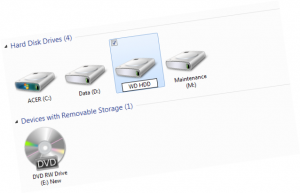 If you got a new HDD or a new laptop you may think that resizing your hard disk drive is a hard mission and I can confirm you that it is a little bit boring and hard if you are using Windows XP. Still if you are using Windows Vista/Windows 7 it is a piece of cake meaning you can do all the work without  any special 3rd-party program.
Let's say that you have an HDD of 320 gigs and you want to create a new partition of 30 gigs. Let's name it with the letter M: from  "Maintenance".
Let's Start!
Click on "Start" and type in the Search box the word "partitions" and in the results list you will find the option called "Create and format a hard disk partition"
Click on it to open "Disk Management"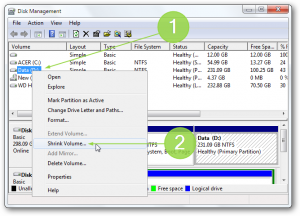 Choose  any partition with an extra free space for example partition "D:" with 100 gigs of free space. We will shrink the partition to 30 gigs. To do that right-click on the partition you want to shrink in order to have enough free space to make a new partition. Windows will calculate the free space and ask you how much free space you want to take from that partition.
Enter the amount of space you want to shrink in MB but you have to know that every 1 GB equals 1024 MB. So if you want 30 GB of space you should calculate it in MB:  30 × 1024 or use Google to calculate it for you.

Right click on the unallocated space and choose  New Simple volume.
After that it will display a Wizard to create a new partition.
Complete the wizard steps and find your new partition in "My Computer".