How To Save Favorites & Beyond - FavBackup
Do you know MozBackup? Even more important are you using it to backup your Firefox favorites and settings? If you forgot about it then you surely need to check the Firefox 3.5 Goodies article I wrote a few weeks ago but what if you're not a Firefox user and you need to backup the favorites and all those browser settings huh? For example I use Opera for most of the time and I've been searching for a tool like MozBackup for ages but I didn't get lucky... until now!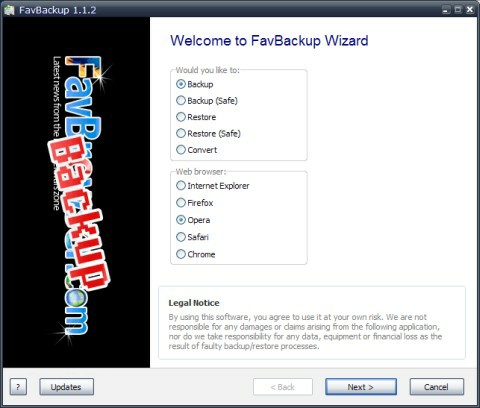 Today's treasure is simply called FavBackup and I guess the name should make things pretty clear already. I know it's pretty strange to see that the setup package is available on RapidShare but I used the best antivirus software to scan it and everything seems to be as clean as possible. These being said I think the time has come to quickly go through the features available in this free piece of code don't you think?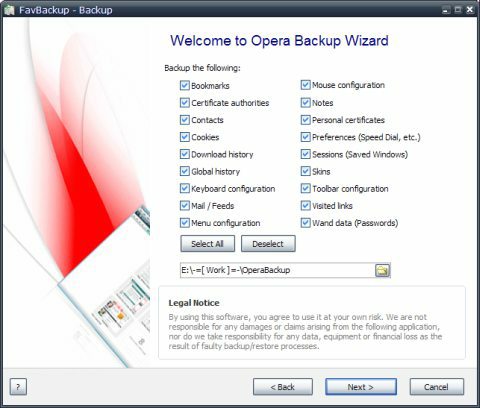 Amazing. Awesome. Outstanding! Really I just went through the options available when backing up Opera settings and I simply was stunned. Just take a look at the screenshot above and you'll understand why. I told you already that I've been looking for such a tool but never found a decent one. Sure I used to backup my Opera settings by simply packing the folder containing all the good stuff but a few updates back things have changed and I remained naked in the street if you know what I mean...
OK let me tell you what's available for those backing up Opera since my amazement won't give you any clue and maybe the screenshot isn't that clear after all: bookmarks contacts cookies download history notes saved windows skins wand data toolbar setup and a bunch of few more settings virtually anything there is needed to get back to your old browser settings in a flash!
The bad part is that FavBackup does exactly what I was doing and it didn't even create some archive with those files it simply threw them into the folder I selected. Anyway that's not that bad since it saves some of my precious time but having the ability to create archives for each backup session would be nice.
Wait a little... I think I said "setup package" a bit earlier and that was completely wrong! The reason is obvious - the executable piece of code you will download is the program itself - no install needed so you can easily deploy it on a USB drive. Sweet!
Should I say more? No use in doing it after all what else do you want to know? It's free it can backup IE Firefox Opera Safari and Chrome settings so get busy with it! If you want to know how to save favorites and the rest of what's hidden inside your browser FavBackup is one of the best answers you'll ever get!
Oh one more thing - I played with FavBackup for a while and it all went fine but if you encounter any kind of problem be sure to drop a comment below. I know one thing for sure - I'll keep using this program and if I ever run into any kind of trouble be sure the first thing to do will be to get back here and share all the details with you but I really hope that won't ever be necessary...