Easily Find Sites Similar To Others
We all know there's no such thing as perfect search engine at least not yet. Yes sure I also know that a lot of people think that Google is God undercover and no matter how false or true may that be sometimes it's easier to take the easy way out. Skip going to church skip using Google because there's always something better to do and today we'll talk about finding sites similar to a given one without using the almighty search engine.
First of all you should take a look at that site I told you about last week. The one delivering new random stuff of course! Done that already? Good! Now let's move on...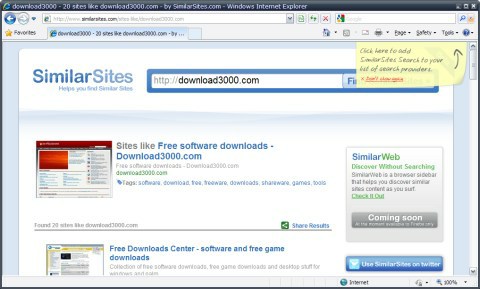 SimilarSites.com does exactly what its name says and that is to help you find similar sites of course! Why should you use it? Speaking for myself I am tired of searching for a certain term finding some good results on the first page another great one a few pages later with good results going as far as page 100 and beyond! No I am not only thinking about Google although things aren't exactly perfect there either as I mentioned a bit earlier.
My approach would be to use the first site I mentioned above to get some random page I never visited and if that page proves to be interesting I will use SimilarSites to find anothers like it. I hope this doesn't seem to be silly because it's not. I often think that some services are extremely silly but only after a while I discover the beauty behind them when there's such a thing to be had of course. When there's no beauty behind the fence... that's it I tricked myself into losing some precious time once again! :|
SimilarSites also comes with a browser addon that helps you find similar sites and closely related content while surfing the Web without having to check SimilarSites.com of course. For the lazy surfer that's simply great!
Before I leave you to enjoy this interesting online service I must point out one bad thing: some smaller sites are simply left out of the game and you will see a message saying "We are unable to provide similar sites for the address somesite.com at this time. Please make sure you typed the sites address correctly or try again at a later time. Thank you from the SimilarSites team." What a pity...