ieSpell: Free Spell Checker Extension for Internet Explorer
ieSpell is a free Internet Explorer extension that helps you to spell-checks input boxes that are found on a website. If you type so quickly that you miss one or two letter when typing this free internet explorer plugin is what you are looking for.
This free Internet Explorer extension works like a safety net for web-based emails and interactive messages. If you send a lot of mails daily write diaries and blogs and submit posts in forums you should try this free plug-in. Most of the latest internet browsers already come with a spell checker but you will find this utility faster than other spell-checking software. Moreover you will be able to create a list of your personal favorite word list if you want.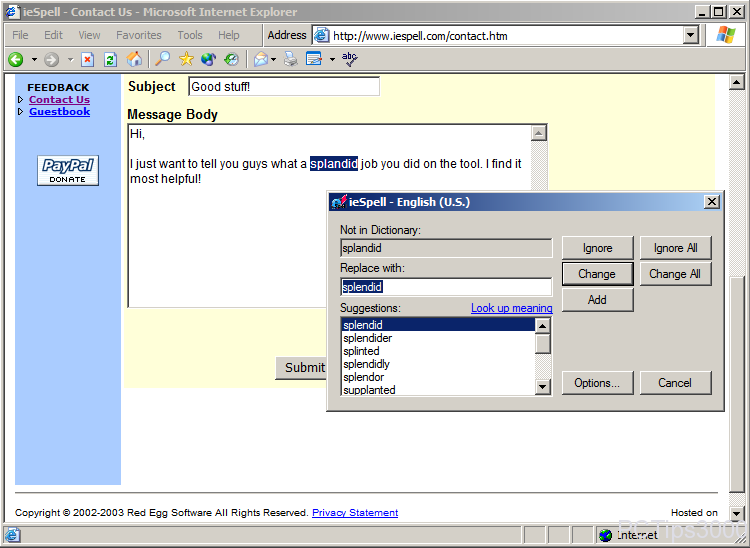 This free Internet Explorer add-on comes with an easy to use interface. The latest version supports checking large documents with a large number of custom tags easily. The text parsing code of this freeware is rewritten to make the software for quicker and robust. If you want this program to check spells you have to activate it first from the tools menu. If you are familiar with other spell checking software you will find the interface familiar and intuitive. This free spell checker add-on is directly connected to online Merriam-Webster dictionary that can increase your vocabulary as well.
Features of ieSpell:
Spell check text input boxes on a website
Create personal word list
Check large documents with lots of tags
ieSpell is available for download at Red Egg Software's official website. It's only 2MB in size and supports all versions of Windows starting from Windows 95. Try ieSpell Free