SpeedFan: Free Hardware Monitor Software
SpeedFan is a free system utility that helps you to monitor your PC's fan speeds voltages and temperatures. This free CPU monitoring utility uses the hardware monitor chips to monitor these things. If you are looking for a free system utility to monitor your hard disk's temperature or to monitor fan speeds and voltages SpeedFan is what you are looking for.
This free hardware monitor software can control fan speeds and access temperature sensors to monitor hard disk temperatures. But these features mostly depend on your hardware's sensor chips capability. You can reset your motherboard's clocks and check SMART data provided by this free system utility. If you are not a PC technician or not interested to do system maintenance by yourself you won't find this free app useful. But if you are looking for a free hardware monitoring software to monitor your hard disk's temperature fan speeds and voltage you will find this app quite useful.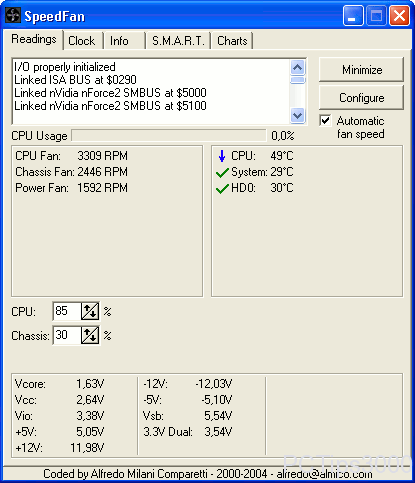 This free system utility is not hard to use but like I said earlier this freeware is for people who wants to do their own system maintenance. So many people won't be able to understand the use of this freeware. You can find the temperature of your hard drive from system-tray icon of this freeware.
Features of SpeedFan:
Monitor your PC's hard disk temperature voltage and fan speeds
Provides SMART data and can reset motherboard clocks
Control fan speeds and access temperature sensors
SpeedFan is available for download at Almico's official website. It's only 2MB in size and supports almost all versions of Windows starting from Windows 98. Try SpeedFan Free