Install BitLocker Drive Encryption Feature in Windows Server 2008
When talking about any network operating system it is always expected that security will be a major concern. Furthermore when talking about security encryption plays an important role. With the release of Windows Vista Windows 7 and Windows server 2008 a new encryption technology named BitLocker was introduced that helped administrators to encrypt entire hard disk drive to protect the information contained in it. There are few prerequisites which a computer system must fulfill before administrators can configure BitLocker to protect the data. In Windows 7 this feature automatically gets installed with the installation of the operating system however in Windows server 2008 it has to be manually installed before administrators can use it. In order to install BitLocker feature in Windows server 2008 as an administrator you need to follow the steps given as below:
1.       Logon to Windows server 2008 computer with the account that has administrative powers.
2.       Click on Start and from start menu click on Server Manager option.
3.       On Server Manager Window from the left pane click on Features option.
4.       From the right pane click on Add Features link to initiate the wizard.
5.       On Select Features page click on BitLocker Drive Encryption checkbox to select it.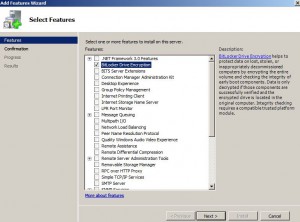 6.       Click on Next button to continue.
7.       On the next page click on Install button to start BitLocker installation process.
8.       Once the installation is complete you will be asked to restart the computer in order to allow the changes take effect.