How to Rename Windows Server 2008 Computer?
One drawback that Windows server 2008 has is that it does not ask for Computer Name during the installation as older versions of Microsoft-based operating systems used to do. Instead Initial Configuration Task wizard allows administrators to rename Windows server 2008 Computer Name from its interface. This option on one hand might sometimes be annoying as it requires an additional manual step which administrators need to take after the installation of the operating system is successfully completed. On the other hand this feature ensures that no human errors take place while specifying Computer Name to Windows server 2008 operating system. However if because of any reason you have closed Initial Configuration Task page and you do not want to go through the steps to bring it back you can change the name of Windows server 2008 computer by following the steps given below:
1.       Logon to Windows server 2008 computer with the account that has elevated privileges and click on Start button to get start menu.
2.       From the menu right click on Computer and from available options click on Properties.
3.       On System window under Computer name domain and workgroup settings section click on Change settings link.
4.       On System Properties box make sure that you are on Computer Name tab and click on Change button.
5.       On Computer Name/Domain Changes box in Computer name text box type the new name for Windows server 2008 computer.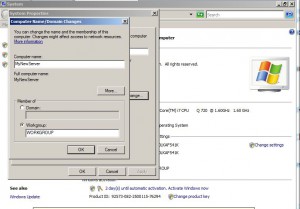 6.       Click on Ok button and click on Ok button again on the appeared box.
7.       Back on System Properties box click on Close button and on the appeared option box click on Restart Now button to restart the computer.