Install Unknown Devices With Unknown Device Identifier
Unknown Device Identifier is a free diagnostic software that can detect unknown devices connected to your PC like its name suggests. If your PC is not recognizing a hardware you connected to your PC recently Unknown Device Identifier is here to help you. Let's see if this freeware can really help us to install our unknown devices.
When we reinstall a hardware or install Windows Windows fails to recognize some of your old hardware. So if you are facing this problem and want a quick solution to it Unknown Device Identifier is the best option for you. This free hardware installer will scan your PC for unknown devices and will help you to install them. All the scan results will be displayed in a tree view with necessary details like Vendor PnP ID etc. If you don't have the updated driver for your unknown device this free driver installer can help you to look for one and install it.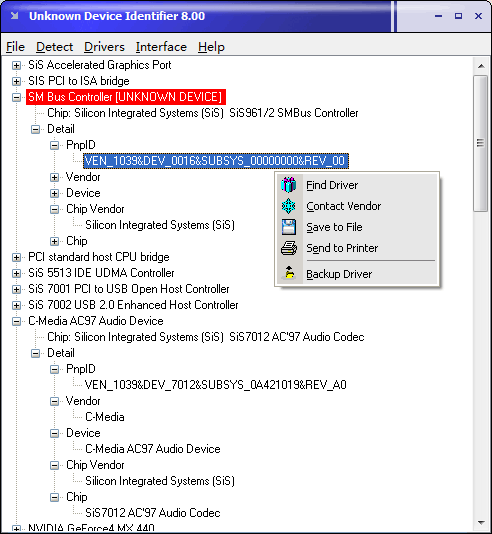 This free device manager comes with a simple user-friendly interface. You can look for unknown devices connected to your PC and then look for updated drives online. You can also create a backup of your installed drivers using this freeware if you want. This free hardware installer can quickly identify USB 1.1/2.0/3.0 Device ISA Plug and Play Device IEEE 1394 AGP Bus Device eSATA PCI-E and PCI devices which is another great feature of this freeware.
Features of Unknown Device Identifier:
Find and install unknown devices quickly and easily
Identify USB 1.1/2.0/3.0/IEE 1394/AGP Bus/ISA Plug & Play/PCI Device
Find drivers easily and install hardware drives
Unknown Device Identifier can be downloaded from Hunter Soft's official website. It's only 1.04MB in size and supports Windows 98 or higher. Try Unknown Device Identifier Free