Good morrrning!!! I don't know about you but my wife has all the rights to call me a freak - most days I check my Gmail account before doing any other things that normal people do like washing my face eat breakfast and put some clothes on (not necessarily in this order...). While I am not crazy about Google Reader or Calendar I use those too - at least once in a while so when I discovered Integrated Gmail I decided that this Firefox addon is worthy of my attention so here we are...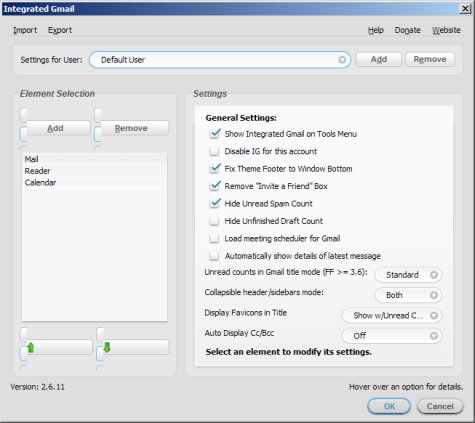 ... with a Firefox addon that was updated to version 2.6.11 on the 26th of January works with Firefox 3.0 - 4.0.* and after no less than 1075729 downloads and 221 reviews has an average rating of 5/5 stars. Pretty impressive don't you think? Oh yeah - its Mozilla.org page can be found here but you may also want to see its official page - this one.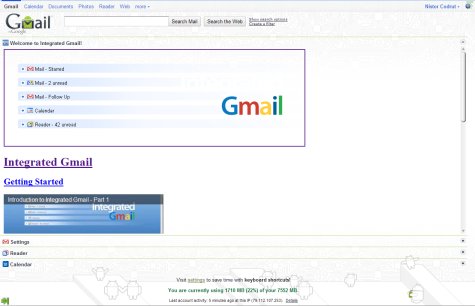 As it happens with most Firefox addons Integrated Gmail comes for free but a $5.00 donation is also recommended. If the screenshot above doesn't help you figure out what's so special about it here's the official mumbo-jumbo: "A Firefox Addon that allows you to make the Inbox Collapsible and load your choice of Google Calendar Reader Notebook Groups Maps Picasa Sites News and Portfolio seamlessly into the gmail interface with the inbox (rather than a separate tab or in the sidebar) using a collapsible box."
Since I played with this Firefox addon a few hours already I think you should know that Integrated Gmail may have some problems with user styles and some themes - in my case we're talking about Stylish and Silvermel - no sure which one of them causes the minor glitches I am facing but I can live with that. All in all Integrated Gmail is a must have Firefox addon that every serious user of Google's services must at least try. That's all folks! ;)