Internet Explorer 9 beta - Beauty of the web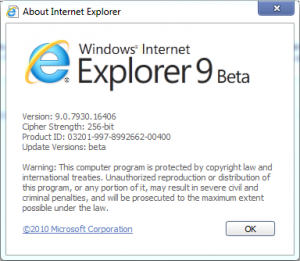 Dean Hachamovitch Microsoft's corporate vice president for Internet Explorer said that "The Web is about sites and your browser should be too. IE9 puts you and your site at the center of the browser experience."
When you will install for the first time Internet Explorer 9 beta you will see bits and pieces of other browsers and especially from Google Chrome and Mozilla Firefox. The improvement is the the way the tabs and URL bar are on the same line. This way you will have more space for displaying the web pages. Also IE9 beta adopts the unified search and URL bar. This way you can search something( and you can get search suggestions as you typ e) or you can write the web address where you want to go. IE9 also has a new notification system. If you need to install a plugin for example you will see only a small notification slide up from the bottom of the screen.

The greatest improvement for IE9 beta is the hardware acceleration. Google Chrome already implemented it inthe beta versions of Chrome 7 and some versions of Chrome 6. "Internet Explorer 9 enabling GPU-accelerated HTML5 is a milestone for visual computing" said Drew Henry general manager of GeForce and ION GPU business unit at NVIDIA Corp. "By harnessing the power of NVIDIA GPUs Internet Explorer 9 removes the glass ceiling for Web developers enabling them to build graphically rich high-performing Web applications."
If you want to test all these new features download Internet Explorer 9. Internet Explorer 9 beta works only on Windows Vista 32-bit/64-bit with Service Pack 2 (SP2) or higher Windows 7 32-bit/64-bit or higher Windows Server 2008 32-bit/64-bit with Service Pack 2 (SP2) or higher and Windows Server 2008 R2 64-bit with Service Pack 2 (SP2) or higher.