How to install a 180 days trial version of Norton Antivirus 2011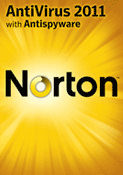 Everybody knows that Norton Antivirus is one of the best antiviruses on the market.Norton Antivirus 2001 is a complete solution that offers protection. Norton Antivirus 2001 incorporates: antivirus protection antispyware antirootkit bot protection network mapping and monitoring Norton Reputation Service Pulse updates and SONAR 2 Behavior Protection.  But before buying the latest version of Norton Antivirus it would be OK to test it. Norton gives you the opportunity to test it for 30 days. The guys from Buzz99 show how you could test Norton Antivirus 2011 for 6 months (180days). So follow the following steps:
1. Create a new Norton account. Even if you already have a Norton Account you must create a new one.
2. Download the 180 Days German OEM version for Norton Antivirus 2009.
3. Install Norton Antivirus 2009 and a registration screen will pop up. Here you must log in with your data from your new Norton Account.
4. Sign in to your Norton account from here and click on "View Order History". Here you will see the product key for Norton Antivirus 2009. Copy the registration key because we will use it to register Norton Antivirus 2011.
5. Uninstall Norton Antivirus 2009 using Norton Removal Tool.
6. Download Norton Antivirus 2011 and use the above key to activate it.
Norton Antivirus 2011 can be installed on Microsoft® Windows® XP (32-bit) Home/Professional/Tablet PC/Media Center (32-bit) with Service Pack 2 or later Microsoft Windows Vista® (32-bit and 64-bit) Starter/Home Basic/Home Premium/Business/Ultimate Microsoft Windows 7 (32-bit and 64-bit) Starter/Home Basic/Home Premium/Ultimate.