Internet Speed Tests Roundup
Looking for a good Internet speed test? Great it seems you're in the right place - today we'll feed you more than just one Internet speed test we'll have quite a few of them! Before moving to the good stuff let me tell you that I didn't just pick them off various other sites I spent some time to check my connection with each of them and I am only telling you about those that got close to the truth. Obviously I can't claim that all the good Internet speed tests are here but I hope you'll find this article to be useful - to make it even more useful feel free to drop some comments all right?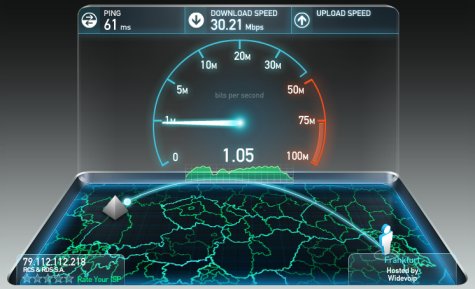 For no special reason I chose to play with today's Internet speed tests using RockMelt and my old Windows XP Professional-based PC connected to the Web using a pretty fast broadband connection. Unfortunately my speed is currently limited by the wireless router I have so I should get downloads up to ~50 Mbps and uploads that aren't impressive at all especially when testing a connection with a server located a few thousand miles away. Anyway these being said... let's start the show!
1. SpeedTest.net is extremely popular not only because it has a very good position in Google's Search but also because it gets the job done properly. More than that SpeedTest.net has a younger sibling that allows you to test your connection's quality PingTest.
SpeedTest.net uses Flash so if you're using some ancient computer the results may be influenced by the fact that Flash content isn't as easy on your resources as text static images and links... In case you were wondering here you have my result: click (testing connection to Frankfurt).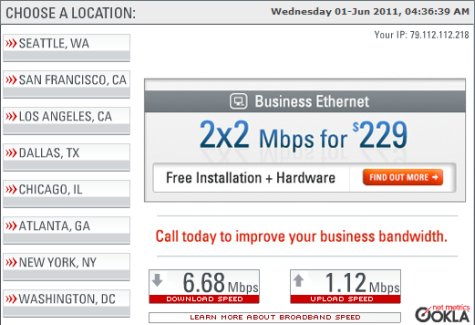 2. Only offering connection tests with servers located in the US Speakeasy's Speed Test works pretty well since it made me get back to SpeedTest.net and chose to test the same US-based servers and compare the results. In the end it seems there's no big difference between these results so this speed test also deserves to be here. For my results look up - I discovered that sharing the results doesn't work as it should so...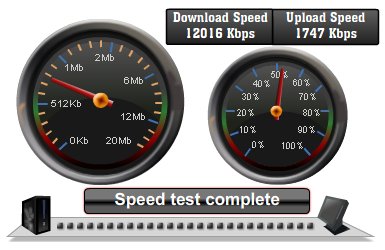 3. Broadbandspeedchecker.co.uk may be loaded with ads but it allows you to easily share your results and in case you're a webmaster looking to get such a test for your projects that's also possible. Unfortunately you can't choose the server to use when testing your connection...
4. DSLReports' Speed Test is available in more versions (Flash Java mobile and so on) each of them allowing you to choose the server to connect to and to make this probably today's most useful Internet speed test there's also a page offering links to a wide range of localized Internet speed testing sites. Excellent!
5. Oz Broadband Speed Test offers quite a few different tests and mirrors to use and... if I say it's worth your time then I'm right! ;)
6. TestMy.net has been around for ages (since 1999 to be more accurate) and the amount of tests available makes that clear. Just take a look at it and be amazed!
I hope you weren't expecting 20 Internet speed tests here because I see no point in that. I messed with a lot of them today but only these 6 above seem to be good enough for people all around the world to use - no matter where you are at least one of them must give you the right result!
... just don't forget - if you think you know something better than all the above drop a comment below! Sure you can also comment just to share with us your results - we won't mind that at all. Good luck and full speed ahead! ;)