IrfanView: Fast, Simple and Free Image Viewer and Editor
IrfanView is a simple and fast free image viewer and converter that allow you to open and edit images and multiple media formats. It has something to offer for both beginners and professionals. The latest version of this free image editor and converter supports a wide range of file formats and supports most sound video and image format.
This free image editor allows you to crop and cut pictures convert them in batch add blur effects sharpen or creating panoramas. You will be able to open sound formats including WMA MP3 and audio CD. You will be able to do painting or create slideshows if you want. You will find be able to access to basic drawing palette easily by hitting F12 in the latest version. You will be able to rotate fill draw eras color pick or grab screenshots with the basic drawing palette in this free image viewer.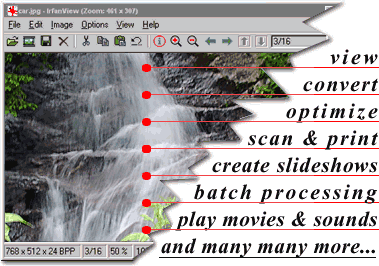 The interface of this free image converter is nothing attractive but is easy enough for the users. The latest version features loseless JPG operations new effects ICC and IPTC edit support color depth changing and other exclusive features. You will be able to handle JPG files much faster with it with other new features like paste options and open/save dialogs.
Features of IrfanView:
Fast simple and compact image converter and viewer
Open and edit images or other media files
Supports multiple audio video and image formats
Supports ICC and IPTC edit
Multi-language support
IrfanView is available for download at IrfanView's official website. It's only 1.44MB in size and supports all Windows OS. Try IrfanView Free