Organize Your Desktop Icons with Fences
Fences is a free desktop customization software that helps you to organize your desktop icons and to clean them up. You can actually draw a fence on your desktop and arrange your desktop icons in the way you want. If you want to separate the important files and unnecessary shortcut icons on your desktop this free desktop customization software is what you are looking for.
This free desktop customization utility helps you to arrange your desktop icons manually or automatically. You can create different boxes add labels on them and keep different icons there. You can keep your important documents in one file emails in one unnecessary shortcuts in one box and other frequently used desktop shortcuts in one. No matter how you want to arrange your files you have the freedom to do that with this free desktop customizer.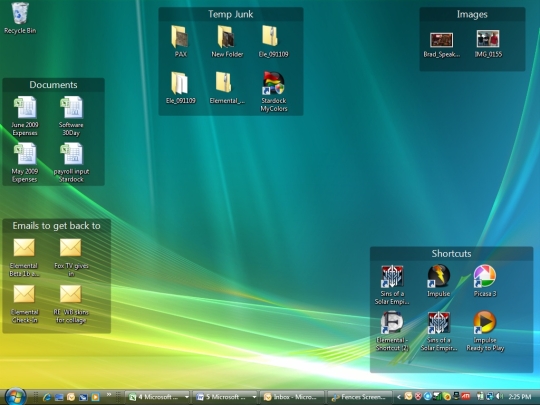 Using this free desktop organizer is very easy. It comes with drag and drop interface so just create boxes and put your icons there. You can draw actual fences on your desktop and drag your icons on them. If you want to make your desktop look clean you can hide all the fences just by double clicking on your desktop. You can customize which icons you want to hide and which ones to show when you double click on your desktop.
Features of Fences:
Arrange all your desktop icons easily
Create different fences for different icons
Hide the icons you want by double-clicking on the desktop
Fences is available for download at Stardock's official website. It's only 9.04MB in size and supports Windows 7 Vista and XP. Try Fences Free