Join Real Streaming Video Chat Rooms with Camfrog Video Chat
CamFrog Video Chat is a simple yet perfect webcam software that provides you a perfect combination of audio video and text socializing. You can join video chat rooms that features real streaming where you can chat with many people at the same time. You can send people instant message before starting webcam chat with them and then add them to your contact list. This free video conferencing software works behind most routers and firewalls so you don't have to think about reconfiguring your firewall settings.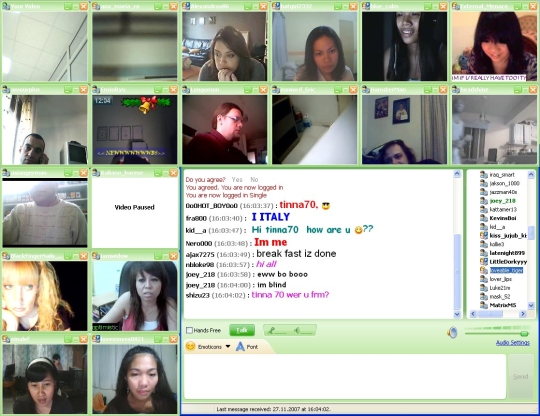 You can look for chat rooms featuring various things including chat rooms with sign language music lessons or non-English chatting. There are some X-rated chat rooms there so it wise to supervise your kids if they are using this program. If you love chatting you will love the integrating audio video and text components as webcam is not required.
If you have used a lot of messaging software you will find the interface quite familiar. You can also create chat room and protect it with password to ensure that only people with password will get access to your chat room. You can also add your favorite chat room in your contacts list or add contacts with just one click. The latest version of this free video conferencing software features high-resolution video sending little virtual gifts and interface tweaks.
Features of Camfrog Video Chat:
Provides a perfect combination of audio video and text socializing
There is a chat room for everything like music lessons to non-English chatting
Supports high-resolution video
Supports sending virtual gifts
Camfrog Video Chat is available for download at Camfrog's official website. It's only 7.2MB in size and supports Windows 7 Vista XP Server 2008 2003 and 2000. Try Camfrog Video Chat Free