Virtual DJ: The Best DJ Software
Virtual DJ is a free DJ software that can help you to do non-timecode digital DJing. People starting from bedroom DJs to professional superstarts use this free mp3 mixing software to rock parties and this software is no considered as the most widely used DJ software. This free DJ software features a cutting-edge beatlock engine that helps you to keep your song on the beat while working your mixes. You can perform amazing remixes on the fly with this free DJ software's synchronized sampler and automatic seamless loop engine.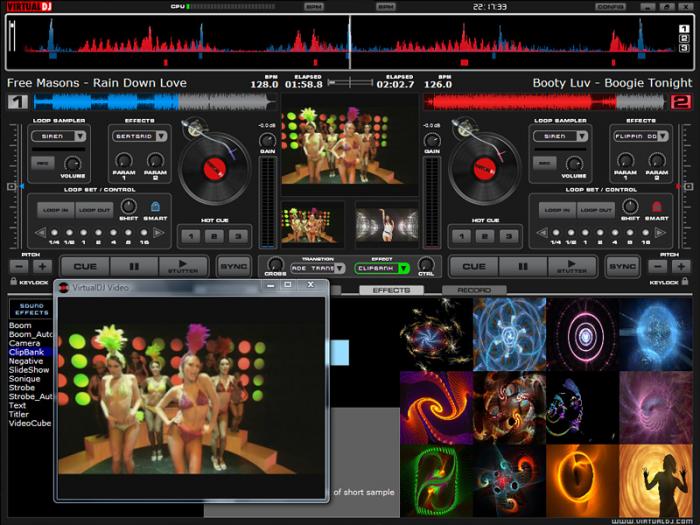 Leading DJ brands including Vestax Gemini Denon has chosen Virtual DJ to include it with their digital DJ controllers. You can even scratch or mix karaoke or music videos just like you mix audios. If you want to stay up to date with the ongoing musical trends you can do it with MusicGroups and NetSearch. If you want to customize Virtual DJ you can do it with more than hundreds of downloadable skins. The VDJScript language ensures that you get exactly what you are expecting from a free DJ software. Even if you are not an experienced DJ this free DJ software is all you need to rock the party.
It won't be easy for the newbies to use the software but music enthusiasts will be able to use it easily. The stylish interface will grab the attention of the music enthusiasts right from the beginning but newbies might confused at first. There is a multifunction area which allows you to add tracks add effects and create recrodings.
Features of Virtual DJ:
Stylish yet easy-to-use interface
Easy access to libraries and music
Cutting-edge beatlock engine ensures that your song is staying on the beat
Synchronized sampler and automatic seamless loop engine helps you to work your mixes on the move
Virtual DJ is only 34.9MB in size and supports Windows 7 Vista XP and 98. Try Virtual DJ Free