Learn how to repair damaged or corrupt system files
I really hate when my system files gets corrupted and i don't know why.  This could happen if you had viruses and your antivirus deleted all the infected files including system files. Fortunately there is a simple solution available on all versions of Windows. It is called System File Checker or SFC. SFC will scan for damaged or corrupted system files and will replace them with copies from a installation disk(in this case you will need your Windows installation disk) or with copies from a backup. But you should know that a better solution is to use System Restore. If you don't use System Restore this is a quicker solution than installing your Windows :)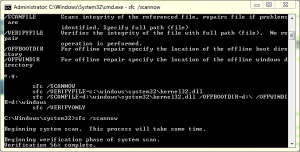 To use System File Checker in Windows XP you will have to open a command prompt and type sfc /scannow. This s the command to scan for damaged files and replace them. If you only want to check for damaged files use the following command: sfc /verifyonly. If you want to scan only one file use the following command: sfc /verifyfile=the_location_of_your_file.(example: sfc /VERIFYFILE=c:windowssystem32kernel32.dll)Â The scanning process will take a few minutes. For Windows XP you have to use your installation disk to recover corrupted files.
In Windows 7 there are the same steps but you have to run the commands using the command prompt with administrator privileges. Also in Windows 7 you can use SFC even if you can't enter in Windows. You ca do it from the Windows Recovery Environment.
After you scan for corrupted files and SFC replaces the files you should also run Windows Update to be sure you have the latest versions of system files.