Locate and Open Network Connections in Windows Server 2008
With the release of Windows server 2008 the user interface of the operating system is also modified. Richer graphics and better performance are the features among one of them. However when talking about any network operating system it is expected that users would never use the computer for multimedia purposes and machine will be utilized to maintain appropriate and foolproof network infrastructure. Since the user interface is modified many administrators find it hard to locate the LAN card icon from where they can assign the IP address to the computer. They can either use NCPA.CPL command to open Network Connections window or they can assign the IP address from Initial Configuration Task page. Another way to open Network Connections window is given below:
1.       Ensure that you are logged on to Windows server 2008 computer with administrator privileges.
2.       Click on Start button and from the appeared start menu click on Control Panel to open it.
3.       From the appeared list of icons double-click on Network and Sharing Centre and from the opened window from the left bar click on Manage network connections link.
4.       You will be taken to a new window where you will be displayed with the icons of all NICs installed on the computer.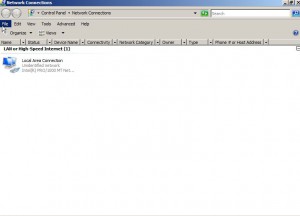 Note: Process of assigning IP addresses to the NICs is the same as it was in legacy versions of Windows.