How to Manage Stored Credentials in Windows Server 2008?
As an administrator of any LAN infrastructure you are required to handle several tasks in a day and manage hundreds of passwords in order to make the network infrastructure run smoothly. Many administrators use some manual copy or notebook on which they write their passwords in order to keep them remembered. This practice is normally not appreciated when it comes to any medium to large scale industries where security is a major concern. Keeping these consequences in mind Microsoft has integrated a feature named Stored Credentials which allows administrators to store their user names and passwords inside Windows database itself. Credentials stored in Stored Credentials can be of any website or LAN server running Windows platform. As a Windows server 2008 administrator if you want to store passwords in Stored Credentials you are required to follow the steps even below:
1.       Logon to Windows server 2008 with administrative credentials.
2.       Go to Control Panel by clicking on Start button.
3.       On Control Panel window double-click on User Accounts.
4.       On the opened page under Tasks category click on Manage your network passwords link to open Stored User Names and Passwords box.
5.       Click on Add button.
6.       On Stored Credentials Properties box type the name of the server or URL of any website whose user name and password you want to store in Log on to text box.
7.       Provide corresponding credentials in User name and Password fields.
8.       In Credential type section select appropriate radio button and click on Ok button store the credentials.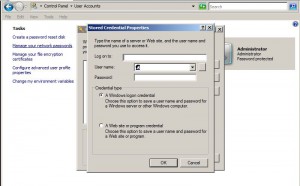 9.       Close all the opened boxes and Windows.