Make Your Desktop Background Entertaining with Screen2Dream
Screen2Dream is a freeware application that allows Windows XP Vista and 7 users to place screensaver (.SCR) files as desktop backgrounds. If you are a home user and have purchased a computer for entertainment and multimedia purposes you are also expected to place attractive wallpapers in the background of the desktop screen. Setting .GIF files as desktop wallpapers in Windows XP is not a big deal and users use to do this to make their desktop backgrounds entertaining. With the help of Screen2Dream although you cannot place .GIF files as backgrounds but you can set screensaver (.SCR) file as the wallpaper which will run at the background displaying the complete animated wallpaper of your Windows computer screen.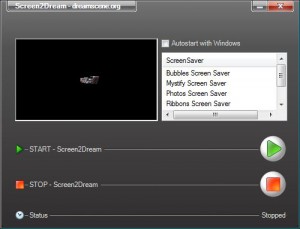 Pros:
The application dramatically changes the look of Windows background screen.
Because Windows Vista and Windows 7 has richer graphics as compared to previous versions of Microsoft-based operating systems setting up .SCR file as a background gives users a thrilling experience.
With the help of Screen2Dream configuration of computer system becomes quite easy just a single click to be more precise.
Cons:
The application is not capable of setting .GIF images as the desktop background.
Desktop icons are not visible while using Screen2Dream
Because a complete .SCR file runs as the desktop background Screen2Dream may consume some additional processing and memory.
Download Link: http://www.dreamscene.org/load.php?Cmd=Download&AL=Yes&ID=31