Microsoft Windows Malicious Software Removal Tool
Microsoft Windows Malicious Software Removal Tool is a freeware program that can be downloaded from the Microsoft's official website and is helpful in scanning for and removing any malicious applications that might automatically be installed on your computer system. The application is backward compatible which means that it can be installed on Windows XP Windows 2000 Windows Vista Windows 7 Windows server 2003 and Windows server 2008 as well. Because of this versatility in the application it is now getting popular among both commercial and non-commercial users. However by any means the application is not a replacement of any full-fledged antivirus software as it is only capable of scanning and removing malwares from a computer system. All viruses are invisible to the software.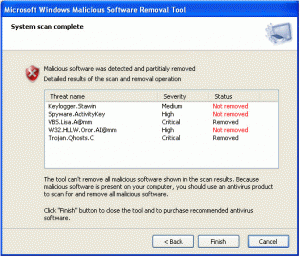 Pros:
The application comes from a trusted vendor that is Microsoft and therefore can be used without any hitch or glitch.
Since it is lightweight it does not consume additional memory and processor.
Installation process of the application is just as simple as any other software.
No license of any type is required for the application. Genuine copy of Microsoft Windows is essential though.
Cons:
Microsoft Windows Malicious Software Removal Tool can only be used as anti-malware application and not as complete virus removal software.
Download Link: http://www.microsoft.com/downloads/en/confirmation.aspx?FamilyId=AD724AE0-E72D-4F54-9AB3-75B8EB148356&displaylang=en