Manage Remote DHCP Server in Windows Server 2008
It is very likely that in complex and large network infrastructures multiple DHCP servers are configured for fault tolerance and load balancing purposes. It is obvious that as the number of DHCP servers will increase administrative overheads to manage DHCP servers will also increase with it. If the administrators are not technically qualified they would keep on running from one DHCP server to another in order to configure them appropriately. However Windows server 2008 also offers a feature using which administrators can manage multiple DHCP servers from a single computer by adding their consoles at one location. This feature saves a decent amount of time and overhead of the administrators and allows them to maintain the efficiency of network infrastructure at the same time. As an administrator if you want to add the console of any other (remote) DHCP server you are required to follow the steps given below:
1.       Ensure that you are logged on to Windows server 2008 computer that has DHCP server installed. Use any account that has administrative privileges to log on.
2.       In the search box at the bottom of start menu type DHCP and press enter key to open DHCP snap-in.
3.       In the opened window right click on DHCP and from the available menu click on Add Server.
4.       On Add Server box click on Browse button to locate and add the remote DHCP server which you want to manage from this very console.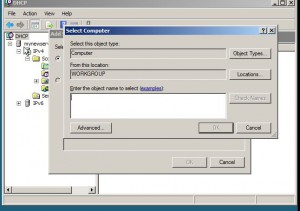 5.       Once done click on Ok buttons on all the opened boxes to finally get the console of remote DHCP server in the opened snap-in.