Reconcile DHCP Server Database in Windows Server 2008
After the successful installation of DHCP server it is likely that administrators would want to modify configurations every now and then to maintain the network infrastructure. Because of regular updates in the DHCP server database and configurations many times the information may get haphazard and because of this DHCP server might start functioning obnoxiously. The main reason behind this weird behavior of DHCP server is inconsistency between the information stored in DHCP server itself and the information available in Windows registry. In order to fix this problem administrators need to reconcile the information between Windows registry and DHCP server database and as an administrator if you want to do so you need to follow the steps given as below:
1.       Logon to Windows server 2008 that has DHCP server role installed with the account that has administrative privileges.
2.       At the bottom of start menu in search box type DHCP to open DHCP snap-in.
3.       On the opened window expand the server name and then expand IPv4 tree.
4.       Right click on the name of the scope which you want to reconcile and from the available menu click on Reconcile.
5.       On Reconcile box take on Verify button to reconcile DHCP database with Windows registry.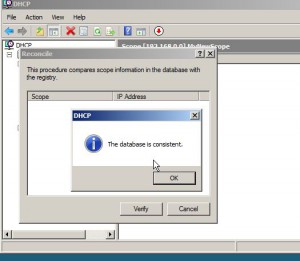 6.       Finally on the displayed box click on Ok button.