Manage Virtual Machine Monitors in VMware Workstation 6.5
A virtual machine that is created in VMware workstation by default is configured to provide display on a single monitor. This configuration is inherited from the host computer which in most cases is configured to use one monitor at a time. However administrators may many times not want the same configuration for virtual machines. On the contrary they may want to spread the display of virtual machines to multiple monitors. This configuration can be managed easily with the help of flexible interface offered by VMware workstation 6.5. Administrators need to have in-depth knowledge of the functioning of VMware and the Display feature used in virtual machines though. As a VMware administrator if you want to specify more than one monitor to any virtual machine you need to follow the steps given below: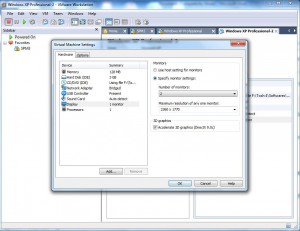 Open VMware workstation 6.5 console window by double-clicking on its icon available on the desktop.
On the opened box make sure that the target virtual machine is powered on and once confirmed right click on its tab.
From the available menu click on Settings option.
From Virtual Machine Settings box from the left pane click on Display to select and from the right pane select Specify monitor settings radio button.
From the available drop-down list under Number of monitors subheading choose the number of monitors as desired.
Click on Ok button to save the changes you have made.