Install VMware Tools in VMs of VMware Workstation 6.5
When a new virtual machine is installed especially in VMware workstation the graphics which are displayed and the connectivity of virtual LAN card is not configured to perform well under default conditions. Right after the installation of guest operating system in a virtual machine is done VMware workstation automatically pops-up a yellow bar at the bottom of the console allowing administrators to install VMware Tools at that very moment. This feature of the application saves a few additional clicks that administrators would otherwise make in order to install the tools afterwards. However if because of any reason administrators fail to install VMware Tools in the beginning they can install them as per their comforts and availability. As an administrator if you want to install VMware Tools on any guest operating system you need to follow the steps given below: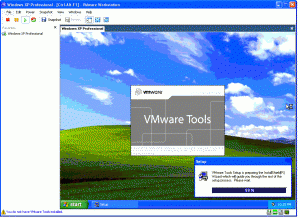 Double click on VMware workstation icon on the desktop of physical computer.
On the opened VMware workstation console box power on the virtual machine on which you want to install VMware Tools.
Logon to the virtual machine with the account that has administrative privileges.
From VM menu of VMware workstation click on Install VMware Tools.
VMware Tools installation process will be initiated inside the virtual machine and you need to follow the on-screen instructions in order to install them.