Manage Your Passwords Easily With Easy Password Manager
Easy Password Manager is a free password manager that helps you to create a database with all the complex password you use. This freeware helps you to store all your passwords in once place. If you use different complex passwords in different accounts Easy Password Manager is what you are looking for.
People nowadays use complex password that are harder to remember to keep their accounts secure from hackers. So there are lots of password storing programs out there to help these people for avoiding sticky notes program. And this freeware Easy Password Keeper is a simple free password management software with simple settings for this work. All your passwords will be safely stored using the password-based encryption method and you only have to remember one password to get access to all your passwords.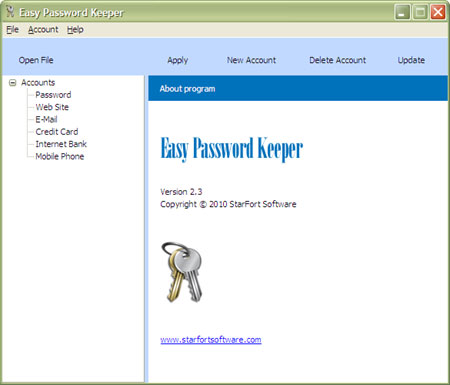 This free password management software comes with simple user interface with tree hierarchy on the main window. You can store passwords and arrange them into different categories including credit cards e-mail internet banking and web sites and mobile phones. When adding a new account you can select the kind of account you want to create enter log-in information name and any comment you want to add. After you are done saving all your passwords this free security software will ask you to select a password for protecting all your stored passwords. There is no help file included with the software which is a negative side of this freeware.
Features of Easy Password Manager:
Store and manage all your passwords safely
Easy-to-use simple user interface
Easy Password Manager is available for download at StarFort Software's official website. It's only 1.1MB in size and supports Windows 98 and higher. Try Easy Password Manager Free