Open Almost Any File Easily With Open Freely
Open Freely is a free productivity software that helps you to open almost any file format easily. You can think of this freeware as a full featured free document editor image editor media viewer or file extractor for Windows. If you want to edit documents browse pictures extract files and view media files with the same software Open Freely is the best option for you.
This free file managing utility supports more than 100 different file formats including 3GP 7z AMR ARW ASP ASPX AVI BAT BMP C CF2 CFG CR2 CRW CS CSS CSV DEB DNG DOC DOCX DOT DOTX EML ERF FLAC FLV GIF GZ HTM HTML ICA ICO INI JAR JAVA JPEG JPG JS JSP KML LOG MEF MID MKV MOV MP3 MP4 MPEG MPG MRW MSG NEF ODT ORF PAGES PDF PEF PHPPNG PPS PPT PPTX PSD QIFRAF RAR RAW REG RESX RTF SQL SR2 SRT SVG SWF TAR TGZ TIF TIFF TORRENT TXT VB VCF WAV WMV WPS X3F XFDL XLS XLSM XLSX XML XPI XPS and ZIP. If you are trying to open a file but can't you don't have to worry about it as you have this free file management utility to help you.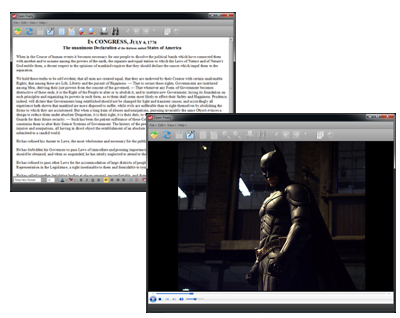 Open Freely is very easy to use and comes with an attractive user interface. The installation process includes installing the free K-Lite Codec Pack for playing media files easily. You can think of this freeware as a free Microsoft Office replacement as this free productivity software can handle all the Microsoft Office files easily. This freeware supports more than 20 different media files and you can compress and decompress files with this freeware.
Features of Open Freely:
Open almost any file
Supports over 100 file types
Open save and edit MS Office files and print documents directly
Supports file decompression and compression
Open Freely is available for download at Open Freely's official website. It's only 29.2MB in size and supports Windows 2000 or higher. Try Open Freely Free