May The Force Be With You!
The future is online but I don't think I really like the idea - at least not yet. Sure some might say that a secure connection should be enough to keep all your data safe but what if it isn't? For now I would rather keep most of my stuff on my hard drive and play with some Web-based OS instead of taking it seriously and only use my computer as a "launch platform" for things like eyeOS G.ho.st or today's topic StartForce.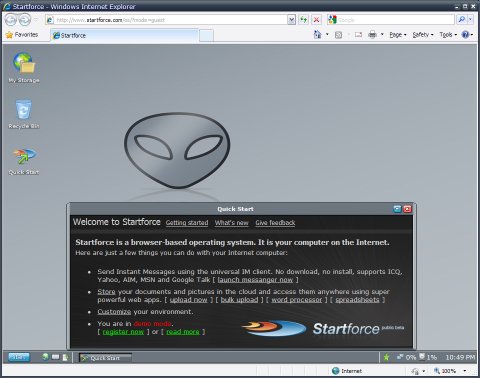 The problem with these pieces of code is that usually they don't last long despite the fact most of them look great but I think there are two things still keeping people away from them: lack of enough applications available and probably most important of all speed... or maybe "lack of speed" since the main drawback with StartForce is not the fact that it's slow but incredibly slow!
Please don't get me wrong - I am almost sure this is an issue caused by my location because I am in Europe and StartForce probably doesn't have any server around me so the force may not be with me but you could get lucky... and since this WebOS comes with enough applications to keep you interested and even offers remote storage capabilities I strongly advise you to give StartForce a chance.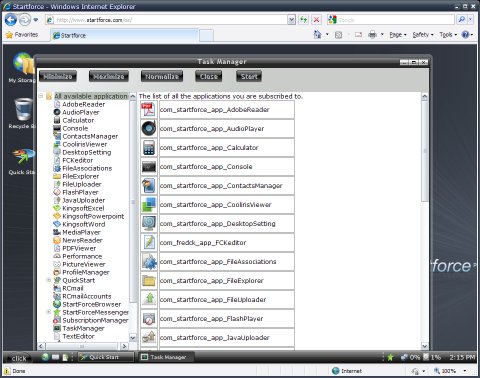 Speaking about my experience there are also positive parts starting with the secure login capability (just click on Options in the login screen to enable it) the PDF Viewer the instant messaging client with support for multiple protocols those not-so-many-but-oh-so-great visual themes the audio player and the Cooliris Viewer and the rest of the goodies. Sure nothing to replace your operating system but pretty handy to keep your vital files and use when connected from a remote location for example.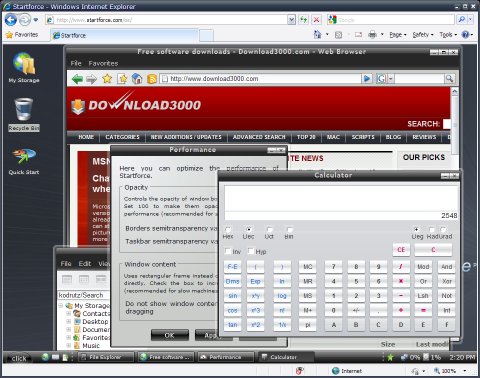 The funniest part of it all is just as I expected the fact that StartForce has a Web browser simply called "Web Browser" but if you think the name sounds trivial let me laugh for a while... (LMAO) Good... is it only me or having a Web browser inside a WebOS that runs in a Web browser sounds a bit ridiculous? I think that next step is a POP email client that will run as code embedded in some email message or something like that... :P
Leaving fun aside StartForce is surely one of the best WebOS thingies I have seen so far and despite its "eternal Beta" stage I found it to be a pleasant experience and I am sure some people will also consider it useful. These being said I will only add that you only need to create a free account to fully enjoy StartForce and since you can even run it via your phone's browser... May The Force Be With You!!! ;)