I don't know about you but to me the Internet is as much of an annoyance as it is a source of entertainment and information. Sometimes it's almost 100% annoyance and this happens especially when you're looking for information... because you got plenty of chances to stumble upon a page asking you to log in or register. Instead of simply saying "Bug Me Not or else... I go check another site!" you could also go check BugMeNot.com and get a little bit of help!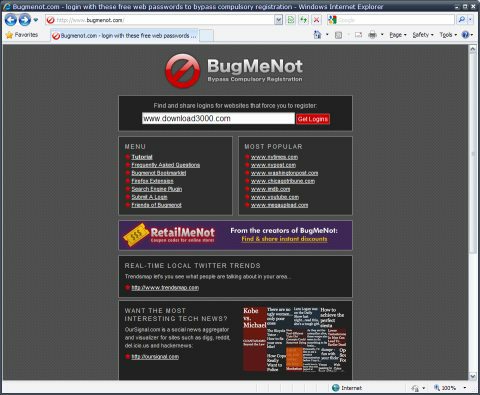 Since plenty of sites simply ask you to register so they can have another email into the database why not get access when you need it and then forget about that? After all I am sure I'm not the only one who created some free account to access "members only" areas noticed information saying my address won't be given away to third parties and then started to receive spam...
... so this is how I landed on Bug Me Not. Using this online resource is really easy since all you have to do is enter the URL of the site you need to check from the member's point of view and then click that Get Logins button to get your user/password combos.
Unfortunately some sites have been barred from the system and this list includes GMail Rapidshare Yahoo and many others but there are also various popular online destinations like IMDB MegaUpload YouTube or The Chicago Tribune having user/password combos available for those who need them.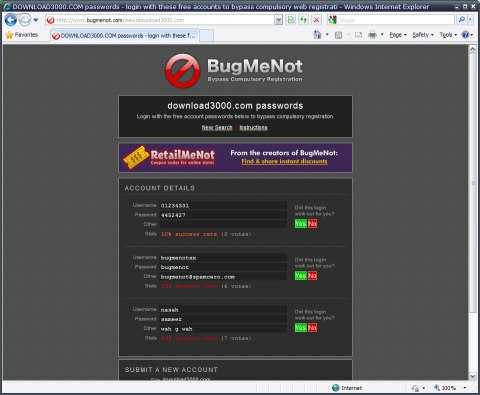 What I like about Bug Me Not is that user/password combos are nicely ordered based on their success rate while this is being calculated using the votes placed by users who tried them so I strongly advise you to go ahead and vote once you tried using some login credentials.
Obviously we're talking about a free resource here and since this seems to be a very useful site to keep close Bug Me Not just got its entry in my bookmarks. This is exactly what I advise you to do and don't forget to tell your friends about it - using this site will surely help everyone spare the time wasted creating useless accounts and have more to spend with friends and family.
In the end the greatest thing in making your computer-related tasks more efficient is not that you'll be able to do more in the same amount of time but that you'll have to spend less time in front of the computer doing the same things as you were doing so far. Just don't forget that the people around you are always more important than what you may be doing with the computer all right?