Monitor Warranty With WarrantyElephant!
In an ideal world every product would get lifetime warranty and you wouldn't have to keep the packaging until it expires. Unfortunately we're not living in such a world and you have to track all those papers and boxes for a lot of time "just in case" because you never now when something may break down. Today we're going to talk about a solution to this problem but first... let me confess something!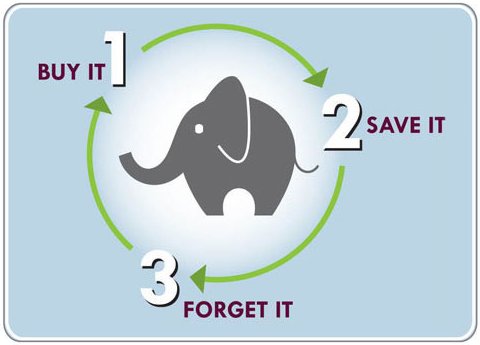 I will be honest and say that if I think for a while I end up with about a dozen warranty certificates and boxes that I should know of. There are 3 hard drives one mainboard two monitors two optical drivers and then some... but I guess you got the idea. No no not the fact that I am not exactly well organized but that keeping so many boxes/certificates around can get pretty tricky especially when you live in a rather small flat.
WarrantyElephant is a very useful online service that can take care of all your warranties and it goes as far as doing it for free. How does it work? Nothing easier - just register for your free membership and then store information about each item you purchased warranty for!
More than just creating item entries and adding warranty data you can even upload copies of your warranty papers/invoices so next time when you need them you'll be able to simply go to WarrantyElephant login retrieve the documents and print them instead of turning your whole house upside down. Pretty cool don't you agree?
Once you input some data you will get reminders for each item at 6 months 1 month and 1 week before the warranty period ends (giving accurate reminders for lifetime warranty items would be out of this world anyway :P). Apart from that you'll also be able to access the data about your items on demand as I mentioned above including product serial numbers and useful telephone numbers.
Anything else? Well... I don't know what is there left to add so I'll stop here. I know this may not be exactly a PC-related tip but I also can't think about anyone around me who doesn't have at least one warranty paper for some computer-related product so... monitor warranty and stay safe with WarrantyElephant will you? ;)