Sometimes checking for changes in certain sites gets pretty time consuming especially if the RSS updates don't cover the area you're interested in. Even more you don't want to install some software or browser plugin just to check for changes in those pages so what do you do? Probably keep wasting time or start wasting time to perform some research on methods that will help you stop wasting time! No matter how you do it we're spinning in a vicious circle here and since I just bumped into a pretty useful site for those who need to monitor website changes here we go...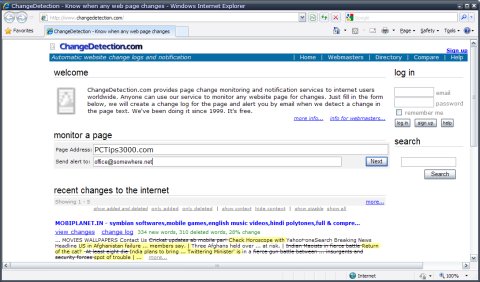 ... with Change Detection a free service that has been providing free page change monitoring and notification services for over a decade. I know the site may not have a design that's up to date but as long as it managed to stay in business for so long and it gets the job done why not give it a try?
Since there's not that much to say about this online service I think best thing to do is see how can we monitor website changes with it and you don't have to worry about this at all since there are only three major steps to take once your browser loaded ChangeDetection.com as you're going to see right away...
1. First you have to enter the URL of the page to monitor and the email address you want to receive the messages on status change.
2. Once you click Next you are taken to the second screen where you have to give a name to your alert and then mess with the advanced settings - alert frequency page content category various other settings/filters. If you want to get a bit of extra exposure for one of your sites be sure to check submit the page to public directory all right?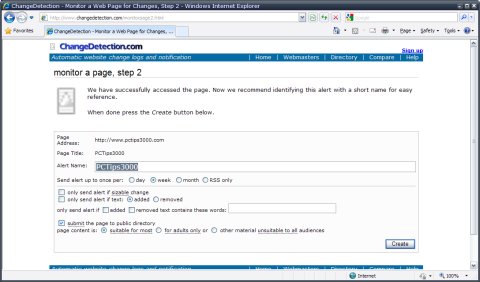 3. After clicking Create you will be taken to the email address confirmation screen where you have to enter the confirmation code you received through email and then choose a password for your account. Check the terms and conditions click Submit and it's all done!
I guess that not many people will consider this a very useful online resource but I am also sure that those who really need to monitor website changes agree with me that ChangeDetection.com is nothing less but pure gold when you need it. That's all folks I hope that if you reached this last paragraph you're one of those who just got a bag of gold for nothing so use it wisely! ;)