Moo0 AudioPlayer: Free Audio Player
Moo0 AudioPlayer is a simple free audio player that comes with an intuitive sleek interface. This freeware does not have any cool feature to offer but if you want a free simple and lightweight audio player for your PC Moo0 AudioPlayer is one of the best options you can think of.
There are lots of media players out there different in sizes shapes features and interfaces. But if you don't care much about the features and want a simple lightweight media player for your PC Moo0 AudioPlayer is a good option for you. You can also think about using this player in your Netbook. It's lightweight and uses very little system resource while running. If you want better sound with this free audio player you can try the Open Air option inside Effect.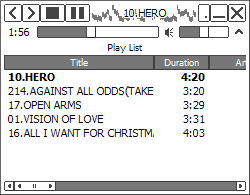 This free media player is very simple and easy to use. The skins are customizable and you can know more about them on Moo0's official website.  There is also an option called Individual Volume which allows you to equalize each song individually which is another attractive feature of this free audio player. All the functions like play/pause volume up/down go previous/next song can be controlled with your keyboard. The latest version of this freeware comes with an improved installer and uninstaller.
Features of Moo0 AudioPlayer:
Simple lightweight fast audio player
Attractive colorful skins
Equalize volume among songs with Individual Volume feature
Moo0 AudioPlayer is available for download at Moo0's official website. It's only 3.31MB in size and supports Windows XP or higher. Try Moo0 AudioPlayer Free