Moo0 WindowMenuPlus: Free Desktop Enhancement Utility
Mooo WindowMenuPlus is a free desktop enhancement utility that adds extra functions to the system windows menu. You will be able to stop process or set transparency process priority right from the system menu with the help of this freeware.
Normally you have to bring the Windows Task Manager window first for killing process and to get information about a program. You have to open different option for setting transparency and keep on top option. But now you don't have to look for these programs for these options as you have Moo0 WindowMenuPlus to help you. You will get options like Process Priority Move to Maximize to Free Unused Memory Program Information and Find this Program in your system window menu with the help of this free desktop customization utility.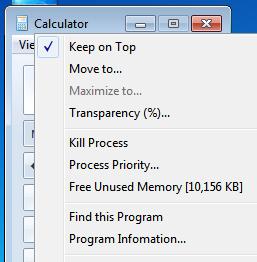 This free system windows menu software is very easy to use and stays in your system tray when active. You will get extended menu inside different applications with submenus. If you are using a program and don't remember where you have installed it you can click on the Find this Program option and it will take you to the place where you have installed that program. Overall it's a really good free desktop customization utility for those who want to enjoy extra features and add extra functions to their Windows system menu.
Features of Moo0 WindowMenuPlus:
Add extra functions in system window menu
Kill process from the system window menu
Easy-to-use user friendly interface
Moo0 WindowMenuPlus is available for download at Moo0's official website. It's only 3.73MB in size and supports Windows 7 Vista XP and 2003. Try Moo0 WindowMenuPlus Free