Manage Your Personal Data Easily with TreeDBNotes
TreeDBNotes Free is a free productivity software that helps you to organize all your necessary information easily. You can use this free personal notes manager for managing your information with all the necessary levels of detail. If you want to create a database in a tree-structured way and add all kind of information with details TreeDBNotes Free is the best option for you.
You can use this free notes manager for creating a contact manager or just as a notebook for keeping track of journal or recipes. You will find a sample database inside this freeware that comes with all the necessary instructions with examples. There are lots of formatting options available in this freeware with other options like spell checker thesaurus customize text insert images create tables set hyperlinks and much more. If you have created a large database don't worry as there is a search feature inside this free personal notes manager for finding the information you need.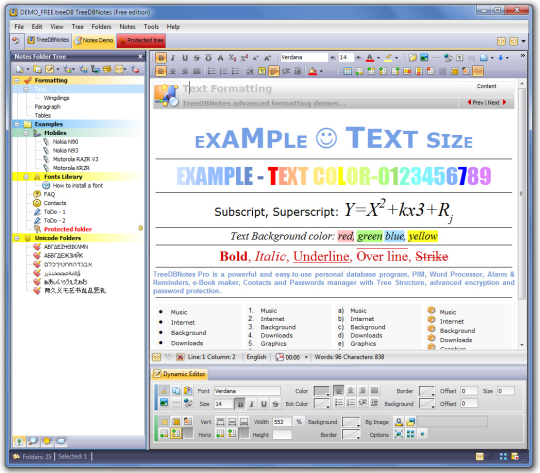 This free personal notes manager is very easy to use and once you check the instructions and examples inside this freeware you will understand how to use this freeware. The tree hierarchy will be displayed on the left side and the menus are available on the top of the window. You can just drag your notes within the hierarchy as this free personal information manager comes with drag and drop interface. If you want to handle a large number of information in a smart way TreeDBNotes is what you are looking for.
Features of TreeDBNotes:
Create notes in beautiful tree-structured form
Number of notes and size is unlimited
Publish to HTML eBook and e-Book
Unicode Dynamic Editor Templates
Document password protection and encryption
TreeDBNotes is available for download at MyTreeDB's official website. It's only 9.05MB in size and supports Windows 7 Vista XP and 2000. Try TreeDBNotes Free