Mouse Gestures All Over Windows
It took me quite a few years to really appreciate the value of mouse gestures and now I bumped into a serious problem. If you enjoy using mouse gestures you will surely agree with me because there are still so many programs without built-in mouse gestures support... and when you have a few of them up and running you still have to configure gestures for each of them in most cases. How to solve these issues?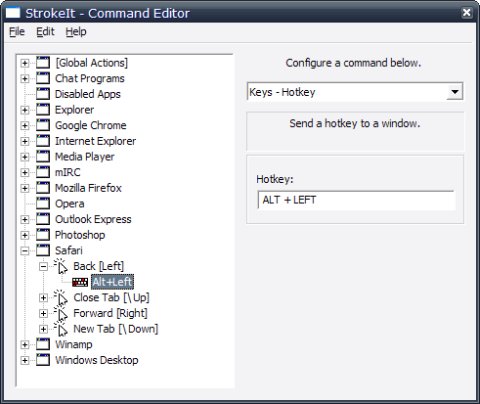 The answer to the question above my friends is standardization! Just think about the possibility to change settings for all your mouse gestures in a single interface so you won't have to remember that a certain movement does that in a program and something else in another - that would be pretty cool don't you think?
If we leave indecent interpretations of its name aside StrokeIt is a pretty good application especially since it's free for personal use. What's so special about it? Version 9.6 was released only a few days ago and it works on virtually any Windows system you can think of since everything from Windows 95 to Windows 7 is supported. I feel really sorry for you... yeah you the guy in the back still using Windows 3.11 for Workgroups! I guess you'll finally feel the need to upgrade now... ;)
According to its producer "StrokeIt is an advanced mouse gesture recognition engine and command processor" and if that's not clear enough think about this - the piece of code currently under my scope here can recognize no less than 80 mouse gestures (I honestly doubt that one can remember that many mouse gestures anyway) and while not all possible Windows applications are supported the list is pretty long.
Did I say "list" above? All right here you have the highlights of that list: FlashFXP Nero Burning Rom Adobe Photoshop Serv-U Visual Studio Internet Explorer K-Meleon (sweeeeet!!!) Safari Google Chrome and others.
Entirely wrote by a single man Jeff Doozan StrokeIt is as small as 120KB and its memory usage is simply ridiculous - "between 70k and 300k" in most cases!!! While free for personal and non-profit use StrokeIt is also available as a paid version with a 10 days trial available if the one downloading it belongs to some business or governmental entity as well as any kind of educational institution. Anyway the license is only worth $10 so I am sure that won't send anyone into bankruptcy. ;)
That's it folks but if you want to get this thing working on your cousin's computer and he's one of those who only speaks anything else but English... it would be worthy mentioning that StrokeIt is currently available in 14 languages including Danish Dutch Hungarian Russian and Japanese. If your native language is not on that list... you can help change that but this is where I stop. For you it could be only the start of a very interesting road...