Need More Than YouTube Downloader?
While today's software goodie deserves a full review I decided to give you a quick hint as I usually do here. The reason? Oh well I guess that most people who are looking for a free program able to download YouTube videos aren't exactly interesting in reading a review but in downloading YouTube videos right? To make it even more interesting today's program can help you download videos from a few dozens of video services not to mention its additional features!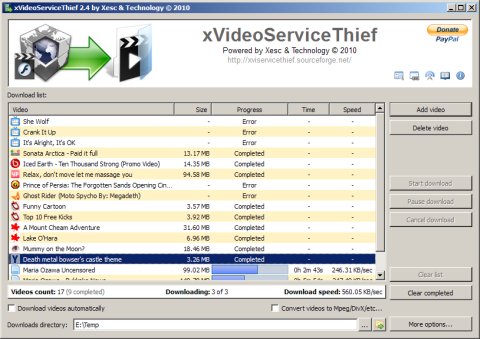 Available for all popular platforms (Windows Linux and Mac OS X) xVideoServiceThief is an amazing product developed by XESC & TECHNOLOGY and released under the terms of GNU License. To be honest I can tell you that no commercial product from this category can beat it and I can only wish they find the resources to keep an eye on all services currently supported and update the program as often as possible. The reason? Oh well... I can't say I managed to download all the files that I tried since I wasn't able to get a single video from MySpace and GameSpot. :|
Currently the last version is 2.4 supports 17 languages allows you to convert downloaded videos schedule downloads and even block support for adult websites (YouPorn RedTube PornoTube and others) protecting this feature with a password while its video search capabilities are really impressive. Awesome I tell you pure awesomeness!!!
To close this with the most precious piece of info for video freaks let me just add that this version I have installed on my computer has support for 77 services! Even if we suppose that about a dozen are not working properly (I didn't manage to test each of them) there's still a serious amount of video at your disposal. Now if only your connection would be fast enough to handle it... and your hard drive large enough to store such huge amounts of content! ;)