Need To Surf Anonymously?
Until a few days ago I used to play some online game. No need to advertise it but you should know we're not talking about World of Warcraft and that this game I am talking about kept me interested for over 3 years. Unfortunately some company associated with the one making the game decided to deny access to people outside North America even to those who put real cash into it so far. When I found about it I was very disappointed but after a few minutes spent on the official game forums I found out about a brilliant tool for those who need to surf anonymously or... avoid some silly IP ban of course! ;)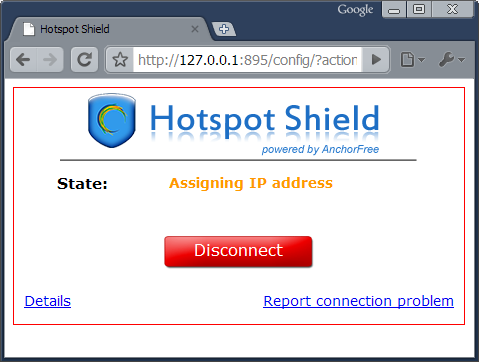 The funny part of the story is that Hotspot Shield is supposed to provide security for those using various WiFi locations but the truth looks much better - we're actually talking about a free tool provided by AnchorFree that can do a lot of things and is also one of the few free VPN services available. Well some may complain about it being ad supported but I really think that seeing those ads is a very small price to pay for having access to such an awesome resource...
... but let's see why should you use this thing shall we?
- Hotspot Shield is fully compatible with Mac OS X Windows 2000/XP and even Vista. If you have any idea about Windows 7 compatibility please drop a comment below and enlighten us!
- While allowing you to surf anonymously Hotspot Shield helps you by encrypting and protecting your WiFi traffic and if you really have to use unsecured hotspots your personal data will be locked down to keep it safe from any kind of hack attack. Is this cool or what?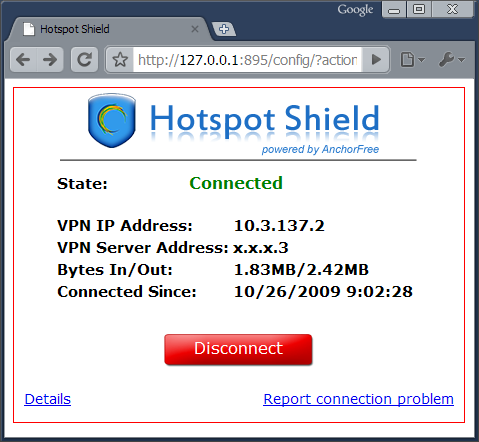 Going back to my problem I must say it was really easy to connect to the game once I got my hands on Hotspot Shield. All I had to do was install the application press the Connect button in the Web interface (there's also a system tray icon you can right click and then change the language or connect to surf anonymously) wait for a few seconds to get a new IP and then I was ready to login like nothing bad ever happened!
If your instant messaging program or file sharing application suddenly loses connection to the Internet after you install and power on Hotspot Shield you don't have to worry - this is something normal and be sure to close the application when you don't need it because some sites/servers you were previously using may not grant access to your new IP...