5 Serious Reasons To Upgrade To Windows 7 and 5 Overrated Ones
I am not a hypocrite so I will confess that I don't have Windows 7 but that doesn't mean I can't write about it since I got some friends using it since its early Beta days so I had a lot of close encounters with this new OS from Microsoft. To be honest I am thinking more and more about upgrading but I also spotted a lot of overrated upgrade reasons that everyone seems to be talking about and I want to make things clear for everyone.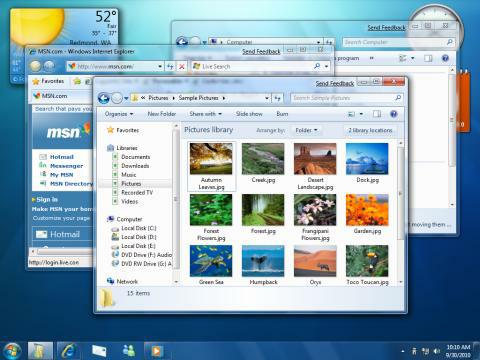 Considering what I said above and the amount of articles on this topic I read so far that I don't agree with I will split what's below into two sections - the first one containing what I consider to be solid reasons for switching to Windows 7 and the second being the part with things everyone seems to say they're great but I strongly disagree. 3... 2... 1...
5 Solid Reasons To Upgrade To Windows 7
1. The Homegroup feature - to make a longer story short we're talking about an easy way to set up a home network and mess with those file/printer sharing settings. Sure they said this back when Windows XP was released and they said this once again when Vista came along; this time it seems they mean it!
2. Performance Increase - best reason to upgrade to Windows 7 especially if you're currently using Vista. According to some reliable sources of mine Windows 7 works great even with older Windows XP computers that weren't able to run Vista properly so this alone should be enough to make a lot of people move on and upgrade. Even more some say Windows 7 is faster than Windows XP on older hardware which is also absolutely amazing!
3. Improved Touchscreen Support - while some may say this is a minor thing to care about I have to disagree because touch-driven interfaces are the way of the future and it's good to know you get early support for that technology that's going to be constantly improved until you finally start using it...
4. Simplicity is without any doubt a very strong point to take into account because one of the main reasons that made me remain with Windows XP so far is the fact that Windows Vista doesn't feel like home. That's great because using Vista after a long Windows experience was like suddenly finding yourself in a conference room dressed in pijamas... and having to hold a speech! ;) Now you can finally uninstall Internet Explorer and those useless pieces of code that are Movie Maker and Outlook Express are gone.
5. Jump Lists - while I think the new taskbar and the improved aero interface are overrated I really like jump lists because they give you really quick access to various files and if the developer of a certain program worked a bit on it you'll also be able to perform various program-related tasks with the help of this excellent Windows 7 feature!
5 Overrated Windows 7 Features
1. Security - I am sure that most sane people agree with me when I say that UAC is one of the most stupid approaches to computer security ever and I don't really understand when people come out and shout that the new Windows version will be the most secure one ever. Sure that's true at least until the first guy outside Microsoft gets his hands on a copy...
2. Improved Taskbar/Aero - with Vista Microsoft finally decided to add features smart Windows XP users already had thanks to Stardock's many interface enhancement tools or shell replacements like Aston... so I don't think a bit of shiny surfaces can really be considered useful features of an OS.
3. Libraries - come on people use a damn file manager! No I don't think that... thing (it's still called Windows Explorer by the way) that comes with Windows Vista and Windows 7 and can be used to browse your files and folders can be considered a file manger and a feature like Libraries should be something to make you get Windows 7! Just use a decent file manager and then come back here and ask me why I say that all right?
4. Gadgets - a feature I hated in Vista and - unfortunately - they didn't take it out in Windows 7. Why hate it? Why love it I should ask but I won't. I know some people are crazy about having a lot of useless junk on their desktops but same people usually end up complaining that their Windows has problems and needs to be reinstalled... so despite the fact gadgets are a part of the whole Aero interface I had to point out the fact we're talking about a feature that's being overrated on its own.
5. Windows Media Player - improved codecs support should have been replaced with its inclusion in the Windows Live Essentials app pack and removal from the OS. Really... there are plenty of better options for those serious about multimedia so seeing some things done right in WMP shouldn't make so many people claim they really found something to rely on.
That's all folks but I strongly suggest to step forward and share your own thoughts about these topics since I am sure a lot of people won't agree with me. After all maybe I'm wrong and you're right so please enlighten me will you? Thanks in advance! ;)