Still looking for software deals? Drop that why not grab a piece of code for free? Yes you heard that right - our friends from ITXS gave us three Network Restore licenses for YOU! Before moving on please keep in mind that you could give your license to a friend if you don't need it so don't miss this software giveaway all right? After all it's PCTips3000's first exclusive software giveaway and it would be a pity for you to miss it...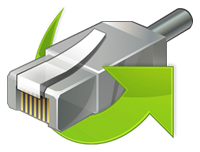 ... but let's take a quick look at the official mumbo-jumbo before I tell you about how this giveaway works all right? "Network Restore is the most reliable connection profiles manager. This must-have tool is useful not only for laptop users that switch frequently between networks but also for home or office desktop users that want to manage network settings as different profiles."
This program's features include a powerful Network Settings Manager the ability to instantly apply IP & other network settings profiles not to mention the fact that's fully compatible with both Windows XP and Windows 7!
To win a Network Restore license worth $4.99 all you have to do is drop a comment below and tell us a few words about the first Internet connection you ever had and your good/bad memories related to it. There won't be a random draw we'll choose the best stories so be creative! If you didn't get your first connection back in 1995 don't worry about it - that doesn't mean you have less chances to win - you can also tell us why should we give you a license and... maybe you draw our attention! ;)
That's all folks - be sure to drop a comment below and wait for this giveaway to end (try to avoid multiple entries that's not nice). This will happen at the end of the month and the winners will be announced on the 1st of February. Oh yeah... and there's also another giveaway from Ashampoo waiting around the corner so keep your eyes on PCTips3000 will you? Good luck!