Rapidshare Alternative Of the Week – Badongo
Friday arrived just in time for another Rapidshare alternative don't you think? Today I'm feelin' really lucky and this has nothing to do with the weekend. Obviously it's gotta have something to do with Badongo today's subject so let's see what should you know about it shall we?
If it wouldn't have some of the "features" I really hate to encounter when using such services Badongo would be almost perfect. Unfortunately it's not exactly close to perfection as I write this. Even more this has nothing to do with its speed but let's leave that part aside now and see why should you try Badongo!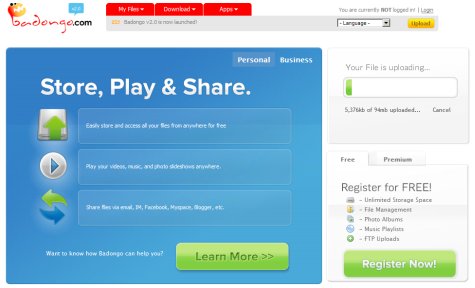 As it happens with most similar services these days there's no need to have an account to use Badongo for a quick file upload. All you have to do is go to Badongo.com press that nice Upload Files button choose to continue without creating an account browse for the file to upload (1 GB size limit but you can upload as many as you wish of course) enter a description if you think that's really necessary then - finally - press the Start Upload button. After a while your upload will be complete and you'll be able to send the download link to your friends who will have to enter captcha text and then wait for a countdown to reach 0...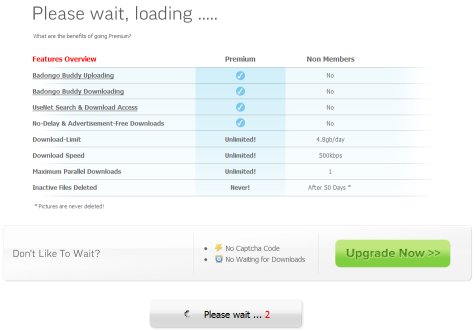 ... and this takes us to one of the reasons for creating a free account - the file search capability with over 10 million files available at this time it seems. Additional goodies are available to users who purchase a Premium account who will forget about waiting captchas download restrictions or files deleted due to inactivity. Obviously there's much more to get as a Premium user but you can discover all that on the official page of course!
My final words? For me using the service without even registering for a free account speed was below average but the overall experience was good. Unfortunately Badongo can't be used properly in Opera so I had to move to Maxthon to play with it... Surely worthy of a try and a free registration not bad at all when it comes to Premium stuff - $49.95 for a 12 month membership this is Badongo - this week's Rapidshare alternative. Have a nice weekend I know for sure I will! ;)