Norton Internet Security 2009 Free!!
Since I just got through reading some comments (evil comments) made after I wrote about my user experience with a domestic product on some site let me start this with a disclaimer: I don't work for A-Data and I am not being paid by them to write this either! These being said let me also add that I think being stuck to a brand is not smart at all and I was able to see this recently when after thinking about it for two days I decided to get a Sapphire card instead of the same model from MSI. The reason was that there were no MSI cards available and it was so hard to choose because Sapphire only provides two years warranty. Guess what - today the Sapphire card is about 10% more expensive and there weren't any MSI cards available at all so far!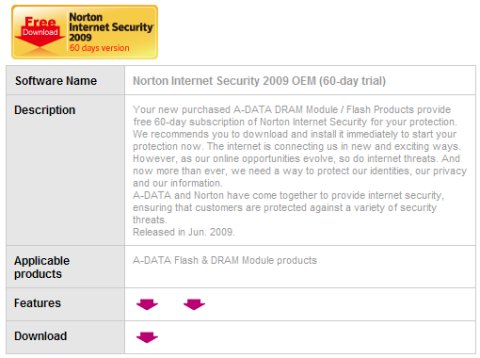 I know the introduction above may not be relevant to the topic but it's good to know that at least sometimes the best decision is to leave what you know behind and try something new. For example Norton Internet Security 2009 free doesn't ring any bell here since I had some unpleasant experiences with Norton's products a few years ago but I may give this company one more chance especially since they teamed up with A-Data...
... and the idea is very simple: you purchase some memory product from A-Data (a flash drive or some DRAM module) go to this page follow those few easy steps described there grab your Norton Internet Security 2009 free subscription and that's it!
Unfortunately you will only get a free 60-day subscription of Norton Internet Security 2009. Well at least you get lifetime warranty for the memory modules... or that's what it should happen since I got my memory kit about two years ago and there are plenty of different retailers selling A-Data products who have different warranty policies.
Now let me tell you a little trick - if you purchased some A-Data memory product before 2008 and didn't register so far you'll still be able to register it - just have that serial number at hand and enter some 2008 day and month as the date of purchase. Ta-taa! Unfortunately you may not gain access to downloading exclusive software but at least you'll get access to some hot product information as well as various discounts and additional members-only stuff so you're not going to waste your time.
In my case I got lucky - after registering my A-Data flash drive I got access to this Norton Internet Security 2009 free 60 days subscription so the conclusion can be only one - if you don't succeed instantly try again! Sure the idea would be to look for the "Download Valuable Software" logo on the box of your product... ;)