Notepad++: Free Notepad Replacement
Notepad++ is a free notepad alternative that is specially designed for programmers and supports programming languages. This freeware allows users to edit programming languages in Windows environment. If you are looking for a good free notepad replacement to replace Notepad and WordPad or looking for a free coding utility as a programmer Notepad++ is what you are looking for.
This free coding utility is specially designed for programmers and comes with lots of attractive features. This free open source code editor is lightweight and helps you to edit C C++ C# PHP Java HTML doxygen ini makefile Javascript SQL CSS ASP batch file python NSIS Flash action script Lua Perl Fortran Pascal and Unix Shell Script. If you own a color printer you will be able to print your souce code in color with its WYSIWYG feature.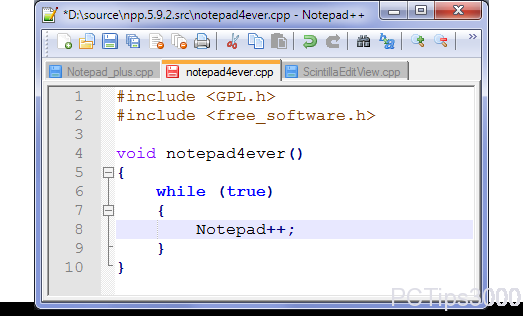 This free notepad replacement comes with a simple and easy-to-use interface. If you have used other notepad software you will find the interface quite similar. You will see a known row of icons on the top of the main window and the white space in the rest of the window like other notepad programs. You have the option to convert text to Hex run and compile macros launch them in Internet Explorer or Firefox and other features. This freeware also supports Unicode and comes with drag and drop interface.
Features of Notepad++:
Free notepad replacement specially designed for programmers
Supports a wide range of programming languages under Windows environment
Syntax folding and highlighting
Notepad++ is available for download at Notepad's official website. It's only 5.28MB in size and supports almost all versions of Windows including Windows 98. Try Notepad++ Free