Ommoo Magic Desktop: Free Desktop Customization Software
Ommoo Magic Desktop is a free desktop customization software that helps you to customize the look of your desktop in the way you want. You can manage visual styles wallpapers themes icons and cursors with just one software. If you are thinking about improving the look of your desktop for a long time Ommoo Magic Desktop is what you are looking for.
You can look for your preferred wallpapers themes and other customization tools online and download them. There are a lot of resources where you can look for different themes and wallpapers. All these resources are rich and looking for your preferred theme and wallpaper is really easy in there. Usually it can be difficult to look for your preferred theme if you don't know any good place for themes and wallpapers. But you don't have to worry about these things once you start using this free desktop customization software.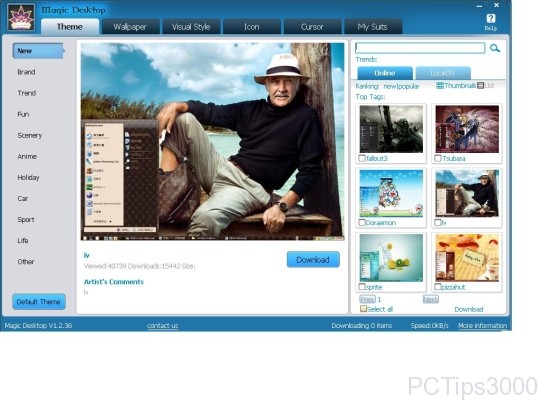 This free theme manager comes with attractive features and good user interface. You can customize your desktop in the way you want and with the things you want. This free desktop customization software supports wallpapers cursors themes visual styles and icons. Once you are done decorating your software you can take a screenshot of it and save it as a suite. Once you launch the program you will find a huge collection of wallpaper 499 pages of wallpapers and each page contains 15 wallpapers.
Features of Ommoo Magic Desktop:
Customize wallpaper theme visual style cursor and other visual elements
Browse and download wallpapers and themes from online build-in store
Ommoo Magic Desktop is available for download at Ommoo's official website. It's only 3.71MB in size and supports Windows 7 Vista and XP. Try Ommoo Magic Desktop Free