Search Hidden Files Easily with Hidden File Tool
Hidden File Tool is a powerful free Windows built-in search utility alternative that helps you to find files that are hidden or is system read only. There is a built-in search utility available in Windows for searching files but it's only good for basic searches. If you are looking for a good free system utility for searching hidden files Hidden File Tool is what you are looking for.
This mini portable free hidden file finder can help you to find hidden file and folders that are using file attributes like archive system read only or hidden. This freeware can search files at a lightning speed and can be stopped whenever you want it to stop. You can use the predefine filters when searching for files or create your own filter and use it. You can specifically look for documents that are in MS Office format images scripts and applications or just look for any file and folder.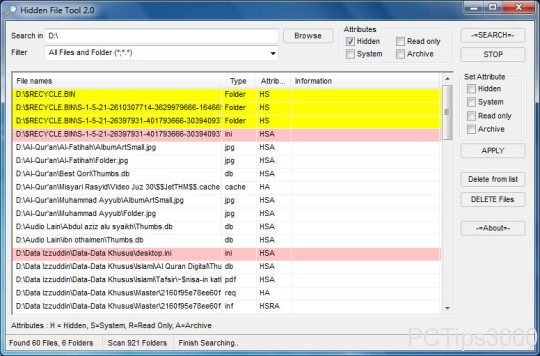 The user interface of this freeware is plain and is very easy to use. You just have to select your preferred file type from the drop down menu and then start looking for your hidden file. You will see the results in grid view. You can also delete any unwanted files directly inside this program. You can use this freeware from a pen drive or USB drive directly as it's portable.
Features of Hidden File Tool:
Search hidden files quickly
Supports searching hidden system read only and archive files
Uses predefine filters when searching or you can use your own filter
Hidden File Tool is available for download at EBSoft's official website. It's only 36KB in size and supports all versions of Windows. Try Hidden File Tool Free