Opera Mail, Rising From Its Grave
Earlier today while I was browsing Opera's website I suddenly had a revelation - Opera Mail is not dead! Sure it was removed from the browser since version 15 but - fortunately - that doesn't mean it's dead it has just been reborn as a standalone application available only for the Windows platform at this time. Hopefully they'll release it for Mac and Linux as well but since I'm using mainly Windows I decided to take it for a spin...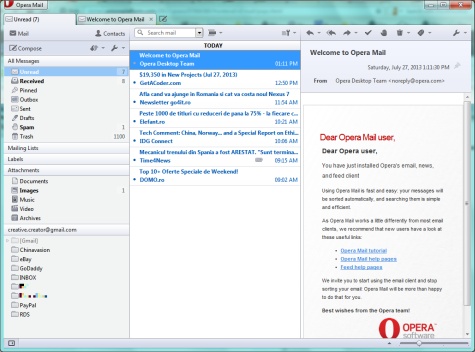 Opera Mail client on Windows 7Since I do everything I can to avoid filling my SSD with junk files I grabbed a portable copy of Opera Mail from PortableApps of course then I did what was natural - installed it on my HDD. Even this way I must confess it works like a charm. Sure it's still a fresh install but it already grabbed a few thousand emails without breaking a sweat.
Unfortunately there aren't any skins/themes or extensions to enrich your Opera Mail user experience so if you're already hooked to Thunderbird then stay with it - at least for now. On the other hand if you're still stuck inside your Web browser whatever that browser may be you really have to check Opera Mail - it's free for personal and business use lightweight and customizable enough looks and feels like home no matter if you used it back in the days when it was a part of the Opera Browser or not so... I have to go there are a bunch of emails waiting for my attention! ;)