Organize Your Photos with Photo Event Organizer
Photo Event Organizer is a free digital image organizer that helps you to organize your digital images in a unique way. This freeware will scan your images and organize them based on their capturing day. If you are looking for a free image organizer that will organize your images based on the day they were captured Photo Event Organizer is the best option for you.
We usually take a lot of pictures on big events like dates birthdays or other special events and then upload them in our PC in one big folder. But if you want a free digital image organizer to remember them for you you can try Photo Event Organizer. This freeware will search for the .jpg images stored in your PC and organize them based on the events they were taken.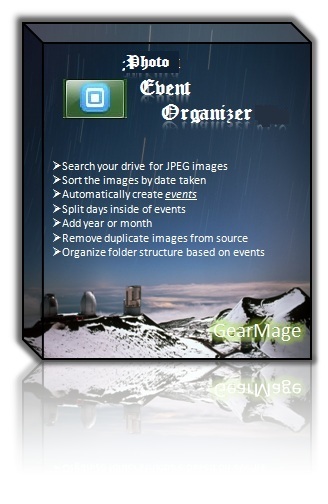 This free photo organizer is very easy to use and works automatically for arranging images. For example if you take some images on an event and don't upload them in your PC and then take some more images next week. Then you transfer those captured images to your PC. Usually your uploading software will transfer them in a one big folder. But this free photo organizer will arrange them in two different events and then transfer them. You can also choose the gap you want between your photos or events and this freeware will automatically sort photos for you.
Features of Photo Event Organizer:
Organize your photos based on the day they were captured
Set event gap when transferring images
Easy-to-use attractive user interface
Photo Event Organizer is available for download at GearMage's official website. It's only 1MB in size and supports Windows 7 Vista XP and 2000. Try Photo Event Organizer Free