Perfect Your English... NOW!!!
Now that everybody dreams about making money on the Internet you can find thousands of self-entitled "editors" and "writers" all over the place with a lot of them ready to write a 500 words article for $1 or so but this isn't a gold mine - it's just another of those situation where some people figure out the hard way how true is one old sentence that keeps coming back here and then: "You get what you pay for." Moving to the other camp I must admit that at least sometimes I feel my English can be improved so I go searching for resources on the Internet (as if having a good friend who's a great English teacher is not enough). Today I decided to share with you one of the treasures I found namely perfectyourenglish...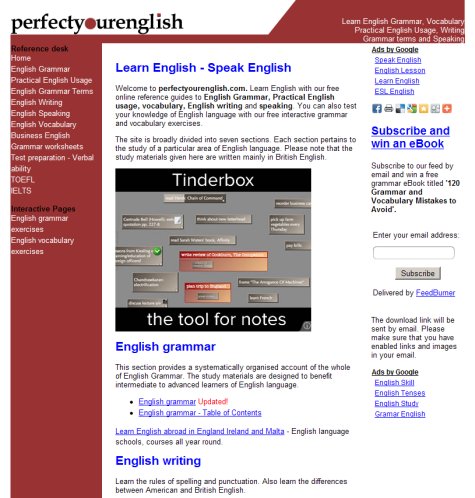 ... and despite its severely outdated design I must confess that perfectyourenglish provides a wide range of information to help you improve your English language skills starting with grammar and practical usage moving through speaking and vocabulary and going as far as helping you prepare for the notorious TOEFL and IELTS tests. If you ask me I think that best way to improve your skills when it comes to a foreign language is to go through a few interactive tests and it's great to know that this is an area also covered by perfectyourenglish.
As I was just saying... interactive tests! Sure please go ahead as many as possible thank you! The grammar quizzes are interesting enough and not long so you won't be able to use boredom as an excuse to avoid them. The English grammar and vocabulary exercises found here can be easily finished in a few hours but if you don't manage to achieve good results... improving your level may take some time. Well at least you won't need to go anywhere else so... move and perfect your English right now will you? Good luck! ;)